---
Fall/Winter 2020: Preaching, Teaching and Studying Paul in his Jewish Context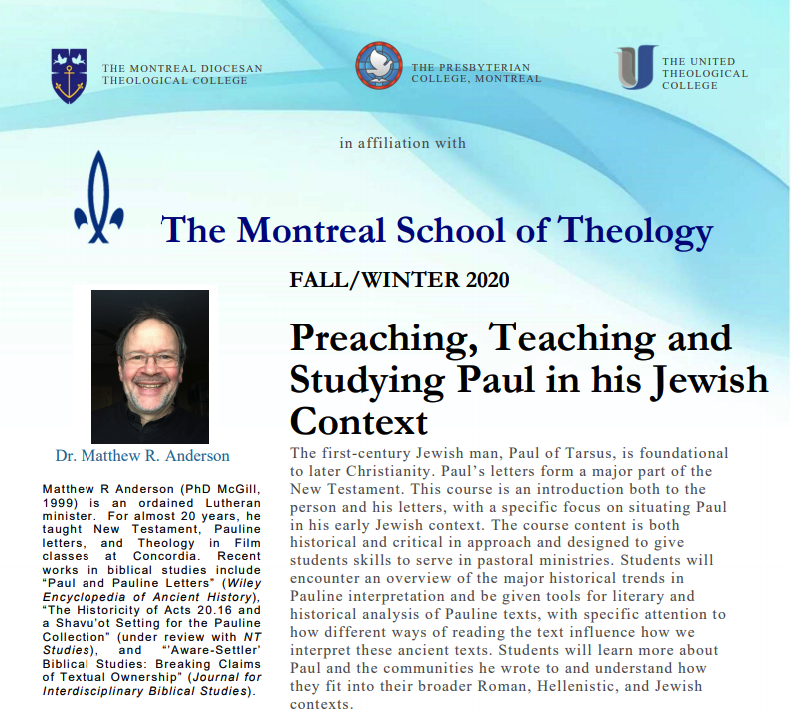 A workshop for congregational pastoral care providers, ministry students, and clergy.
Matthew R Anderson (PhD McGill, 1999) is an ordained Lutheran minister. For almost 20 years, he taught New Testament, Pauline letters, and Theology in Film classes at Concordia. Recent works in biblical studies include "Paul and Pauline Letters" (Wiley Encyclopedia of Ancient History), "The Historicity of Acts 20.16 and a Shavu'ot Setting for the Pauline Collection" (under review with NT Studies), and "'Aware-Settler' Biblical Studies: Breaking Claims of Textual Ownership" (Journal for Interdisciplinary Biblical Studies).
Topics will include:
The first-century Jewish man, Paul of Tarsus, is foundational to later Christianity. Paul's letters form a major part of the New Testament. This course is an introduction both to the person and his letters, with a specific focus on situating Paul in his early Jewish context. The course content is both historical and critical in approach and designed to give students skills to serve in pastoral ministries. Students will encounter an overview of the major historical trends in Pauline interpretation and be given tools for literary and historical analysis of Pauline texts, with specific attention to how different ways of reading the text influence how we interpret these ancient texts. Students will learn more about Paul and the communities he wrote to and understand how they fit into their broader Roman, Hellenistic, and Jewish contexts.
WORKSHOP INFO
Date: September 16 to Dec 9, 2020
Time: Wednesday evenings 6:15p.m. – 8:00 p.m. EST
Location: Online Webinar
COST
MST Student $380
Auditing $300
Other $490
INFORMATION/REGISTER:
Presbyterian College: [email protected]
Diocesan College: [email protected]
United Theological: [email protected]
Download PDF: http://mst-etm.ca/wp-content/uploads/2020/07/Matthew-Anderson-PDF.pdf